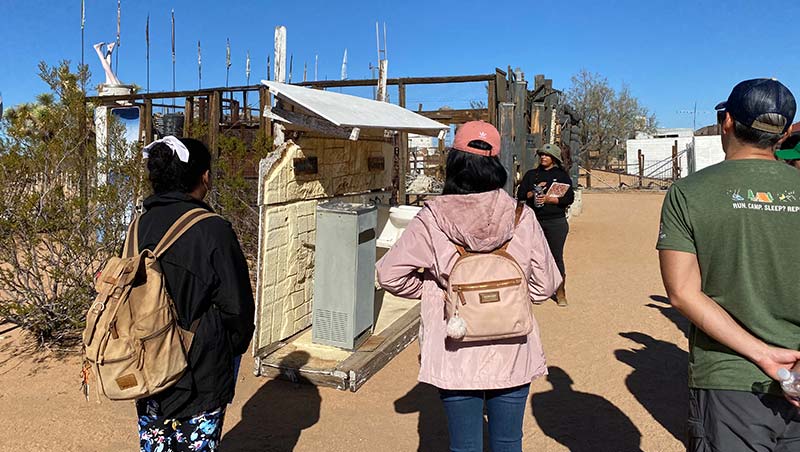 Student Research Trips
MVC Honors Program students — Mirza Ramirez, Shyann Rhames, Maria Cardenas, Samantha Marin, Jesus Prado, and Dulce Funez — joined Professors Ally Johnson, Ph.D., associate professor of art history and Felipe Galicia, associate professor of biology, for a day trip to Joshua Tree on December 3. The day started with a tour of the Noah Purifoy Desert Art Museum where students learned about the artist's assemblage practice. For Purifoy, the power of the desert to change and take over his outdoor artworks is all part of the plan. Students also explored Joshua Tree National Park where lessons in giant granite boulders, juniper berries, oily creosote bushes, and oak tree galls (harmless tumors caused by wasps) were enjoyed by all.
Making the most of Honors
From research trips to visiting prospective transfer universities, MVC Honors students have numerous opportunities to strengthen the skills they learn in the classroom and plan for their future careers.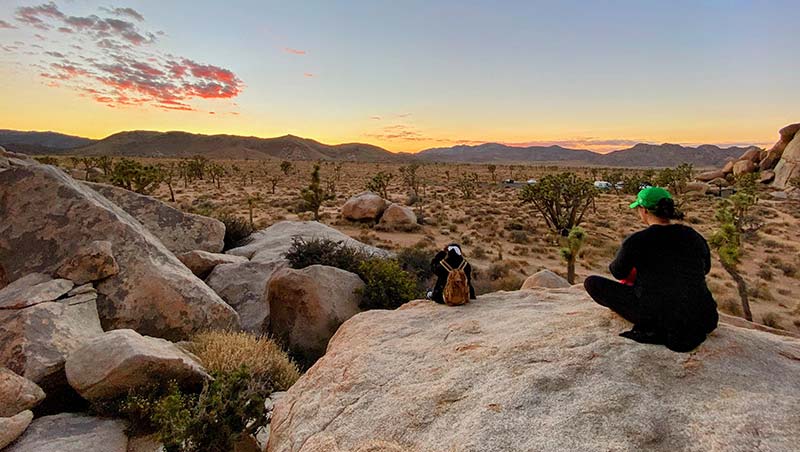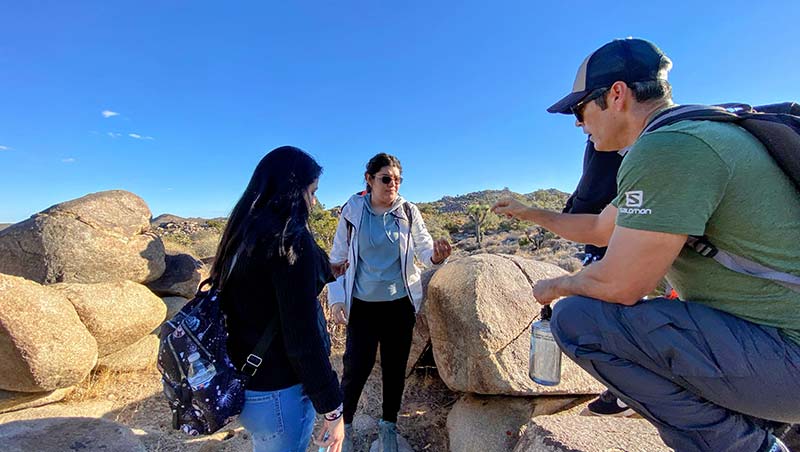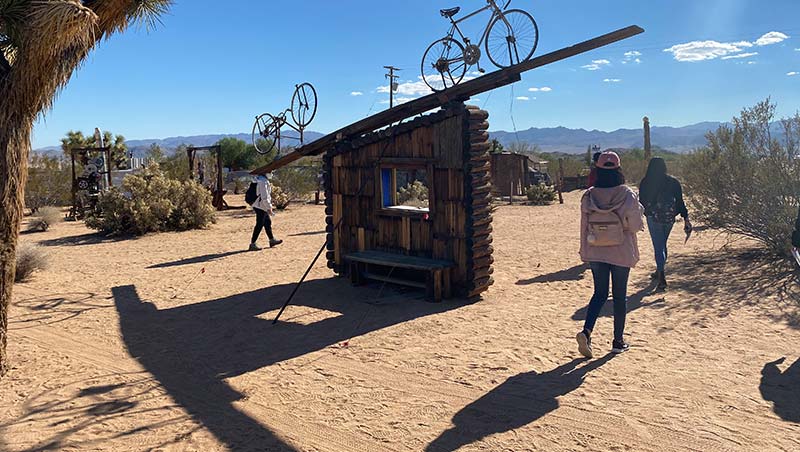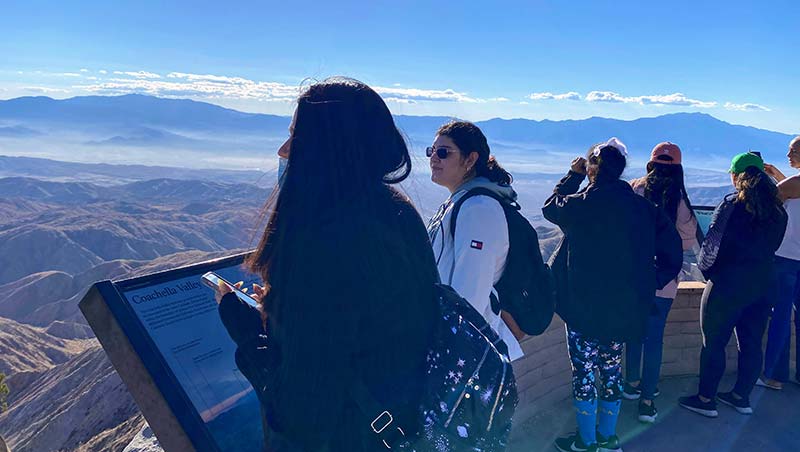 Honors Student Stories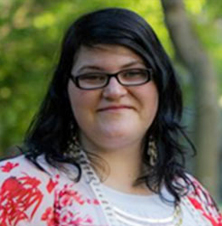 Rozalyn Wood
Graduated: Moreno Valley College, 2014 and the University of Pennsylvania, 2017
"While in the MVC Honor's Program, I participated in all of the Honor Biology and Chemistry science courses available. I found the dedicated teaching and small class sizes facilitated my success within these courses and my understanding of the material. Most importantly, I was able to engage in student-driven research which solidified my ability to transfer to University of Pennsylvania - an Ivy League institution. As a neuroscientist, the honor science courses I took at MVC are part of my core foundation that I built upon throughout my academic journey and still use today."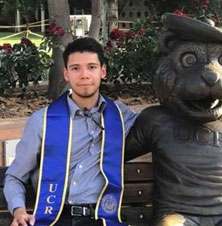 Osmin Guevara
Graduated: Moreno Valley College, 2020
"The honors program awards you the opportunity to explore the class's topic more in-depth than its regular counterpart. It will give you the skills needed to conduct your research, and perhaps even have the chance to present it at a conference. With the help of Dr. Joanna, my partner and I were able to not only conduct our research on the swallows of MVC, but also present our research at the Council of Undergraduate Research (CUR) in Oklahoma."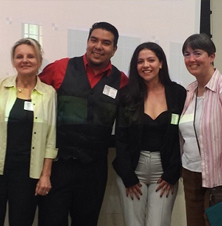 Stephanie Lara and Danilo Noguera
Students Stephanie Lara and Danilo Noguera (with Dr. Joanna Werner-Fraczek and Dr. Diane Marsh) gave an excellent presentation from their Biology 11H classes at the UC Irvine Honors Conference. The Honor's Transfer Council of California Conference (HTCC) is a yearly event held at UC Irvine where students participating in the Honor's program at their respective community college can come together to share the research they have conducted over the course of the academic year. Colleges from all across southern California attended and presented in either the poster session or the live presentation.
Stephanie and Danilo, as a team, did a live presentation of their research on their Bio 11H class. Their research was based around gene expression. Specifically, they studied gene expression in cress plants (Arabidopsis thaliana). They conducted research in collaboration with Dr. Patricia Springer's lab at the University of California, Riverside. Dr. Springer's lab provided seeds with a transgene insertion that made the seeds/plants herbicide resistant. They matured the seeds to plants and used GUS staining to find the location of expression of certain genes. Basically, they put the plants in tubes with GUS and looked for blue color to show up. Wherever blue showed up, the gene was being expressed. Dr. Werner-Fraczek and Dr. Marsh attended to support them.
Honors Conferences
Each year, the UCI Community College Honors Research Conference is held in Irvine, California. The conference gives community college honors students the opportunity to present their academic work.
On Saturday, March 25, the MVC Honors Program attended the 23rd Annual UCI Community College Honors Research Conference. Student presenters showcased their research in and learned about research from honors students across the state. MVC Honors students in attendance included Chau Ly, Jacqueline Godoy, Ajay Jose, Jesus Prado, Justice Brown and Andrew Romero Ruiz.
Pogonomyrmex rugosus ant workers' ability to learn and exchange information using odor and food reward by Gissele Arroyo, Daisy Rosales, Chau Ly, Daniel Serrano, Andrew Romero Ruiz
Plant Response to Circadian Rhythm Interruption by Gissele Arroyo, Daisy Rosales, and Daniel Serrano
Rebelling Against Societal Norms Furthers the Advancement of Society by Jacqueline Godoy
Perspectives Surrounding Reddit Moderators: The Complexity of Online Culture by Jesus Prado
Black Exceptionalism: The Double-Sided Coin and its Effects on Deportation by Ajay Jose
In fall 2020, the RCCD Honors Program hosted our first ever virtual student research conference. A number of students, faculty, and staff tuned in live for our plenary session, including MVC Honors student Jerilyn Hurtado-Ulloa, who won the Moreno Valley College President's for her essay, Abused and Exploited Children. Check out a recording of the conference!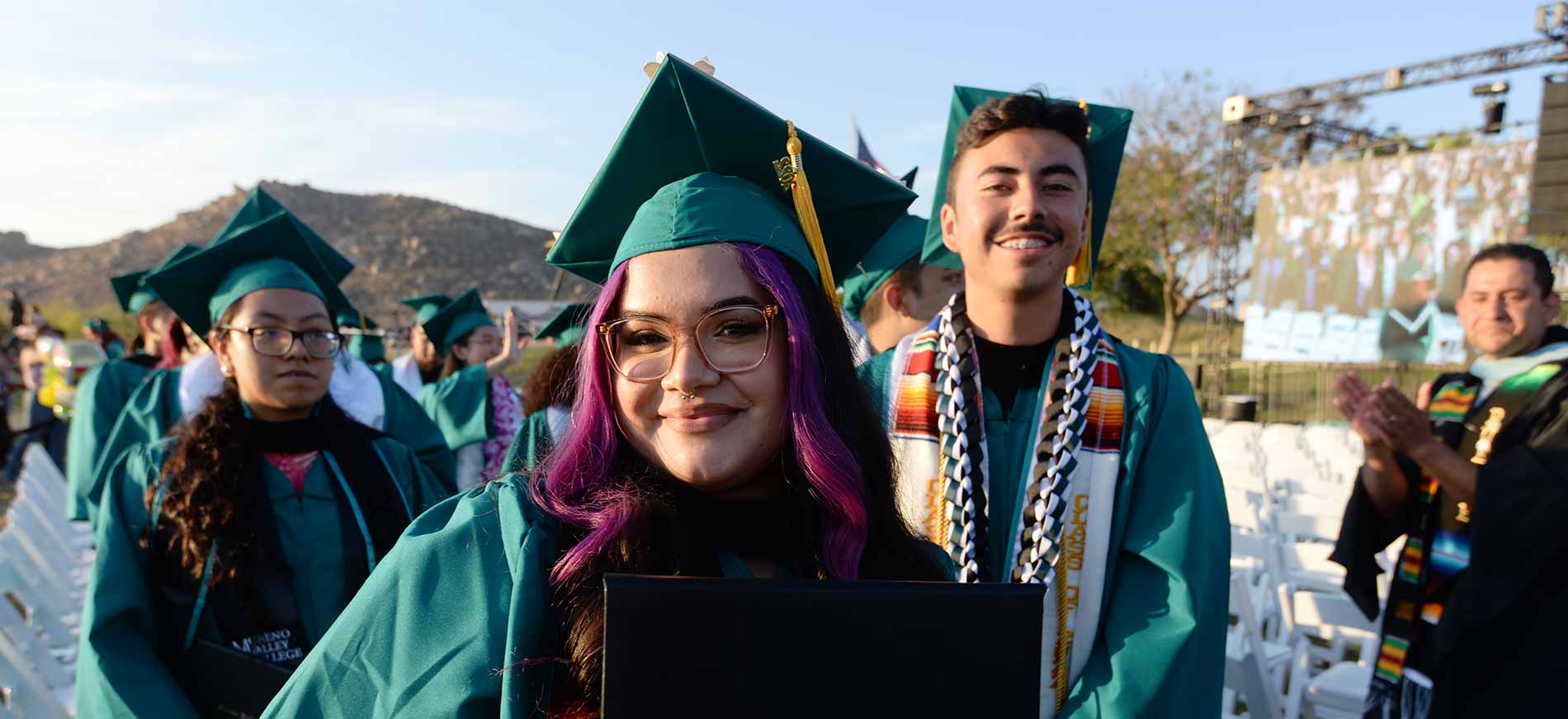 Ready to become a Mountain Lion?