Stay Connected
No matter where you are on your college journey, MVC can assist you with reaching your goals. Reach our to one of our offices, or log into important services to manage your classes and account.
What's happening at MVC?
News and announcements for MVC mountain lions.
Student Information
Access your student handbook and complete important tasks.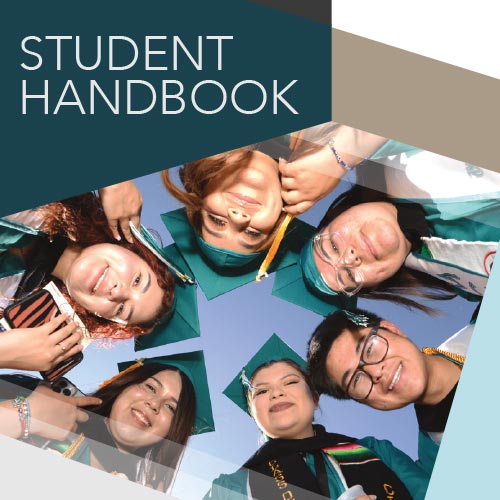 Your annual student handbook is your go-to resource for everything you need as a Moreno Valley College mountain lion.
Support
We're here to help you plan your experience at MVC and keep you on track.
Make sure you have all you need to complete your classes.
With Assembly Bill 705, students receive a placement using high school records instead of our old assessment tests. That means Riverside Community College District students are eligible to take transfer-level math and English courses. Research shows that a high school grade point average and coursework are the strongest predictors of performance in college-level coursework.
If you have questions about your placement, make an appointment with an academic counselor.
Students that have been placed into English 1A and the accompanying English 91 support course have the right to challenge that placement and only take English 1A. Do so by completing a short challenge survey.
Good Standing
Students are considered to be a good standing when they achieve a cumulative grade point average of 2.0 or higher and earn grades of "A", "B", or "C" in 50% or more in all coursework attempted.
Probation
Students who have attempted 12 semester units or more will be placed on academic probation if their grade point average is below 2.0. Students may also be placed on progress probation if they have attempted 12 or more semester units and have an excessive number of "withdraws," "incompletes," or no-passes. "Excessive" is defined as 50% or more. Students placed on probation will be notified through their student email account.
All first-time probation students are encouraged to complete a success workshop offered by Counseling Services. The workshop is available online or in person in fall and spring semesters. Students on probation may enrolled for a maximum of 13 units in the spring and fall semesters and 7 units in the summer and winter terms.
View the online probation workshop
Dismissal
Students who maintain less than a 2.0 GPA for two consecutive semesters are subject to academic dismissal. Student shall also be subject to dismissal if the number of "W," "I," "NP" or "NC" entries reaches or exceed 50% for two semesters in a row.
Student who are subject to dismissal may enroll in classes after meeting with a counselor and completing a readmission contract. Prior to meeting with the counselor, students must complete the on-line Readmission Workshop.
Moreno Valley College and the Riverside Community College District is an Equal Opportunity, Title IX and Section 504 employer and educational institution.
​Title IX of the Educational Amendments of 1972 states: "No person in the United States shall, on the basis of sex, be excluded from participation in, be denied the benefits of, or be subjected to discrimination under any education program or activity receiving federal financial assistance."
If you believe you've been subjected to discrimination, you have resources available through the RCCD Title IX office.