About the Mural
In September of 2022, the School of Visual and Performing Arts and the MVC Art Gallery received a Century Circle Grant through the RCCD Foundation to support the production of a campus art mural at the College.
Painter, muralist, and MVC alumna, Rosy Cortez, completed a new mural at MVC, titled MVC in Bloom, which covers the walkways leading up to the Humanities Building.
About the Artist Provide Ideas or Stay Informed Leer en Español
Location
The mural runs across the concrete panels that surround the main stairway of the Humanities Building, which has high visibility from campus entrances at College Drive and Krameria Street.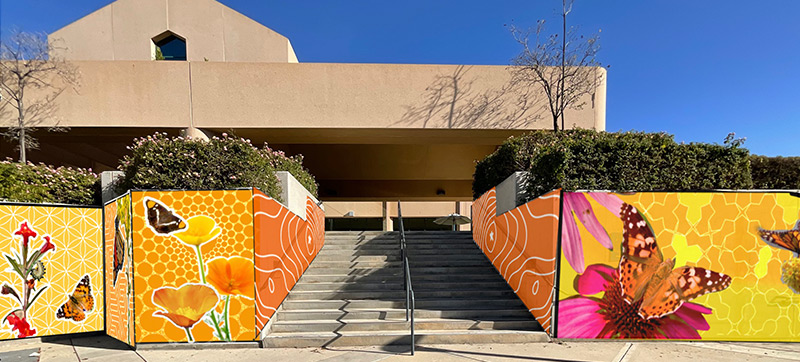 Concept
Cortez has developed a design using bold colors, patterning related to the various areas of study at the College, and imagery representative of native flora and fauna from the region. Taken together, these pieces speak to the joy, connection, and growth that individuals achieve in the pursuit of higher education.
Community Participation
Mural production took place between March 27 and April 10. You're invited to attend the upcoming Mural Opening Reception on May 18.
Thank you to our amazing community members!
Members of the MVC and Moreno Valley community were invited to make their mark on campus by participating in Community Paint Days. Thank you to those who assisted with the production of our new campus mural. You've made your mark at MVC!
Mural Opening Reception
Please join us for an opening reception on May 18, 4 - 6 pm, with artist Rosy Cortez to celebrate the completion of a new mural on the MVC Campus. Art + Music + Light Refreshments. See you there!
Timeline
September 2022: RCCD Century Circle Grant secured

October 2022: Artist Rosy Cortez commissioned

November 8, 2022: Campus Site Visit and Meet-and-Greet with Cortez

February 28, 2023: Campus Townhall to announce the mural design

March 27–April 10: Planned Installation Period

April 1 and 2: Community Paint Days

May 18, 2023: Mural Opening Reception at 4 pm in Coudures Plaza
About the Artist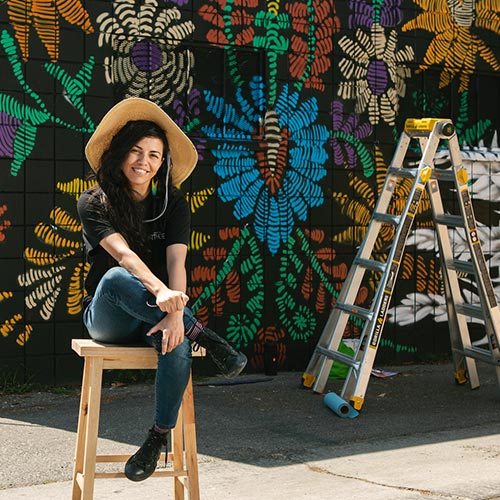 Rosy Cortez is a painter and muralist based in the Inland Empire. She completed some of her earliest art classes at Moreno Valley College in 2012 before transferring to California State University, Long Beach to finish her Bachelor of Fine Arts in Studio Art with a concentration in figure painting. She is a member of the artist studio Eastside Arthouse and is a leading figure in the mural renaissance underway in Riverside, CA. Her work has been exhibited at The Cheech Marin Center for Chicano Art and is held in a number of private collections.
Cortez's Portfolio Cortez's Instagram
Adding to MVC's Campus Story
Moreno Valley College's existing public art consists of sculptures depicting the mountain lion mascot and three colorful, hand‐painted tile mosaics donated by local artist, Timothy L. Taylor, in 1998. These artworks are all installed at the front of campus, indelibly marking MVC's connection to and appreciation of creative expression. The remainder of campus is a blank canvas, ripe for new and engaging visual storytelling.

Acknowledgements
The Mural Project is support by an RCCD Foundation Century Circle Grant in collaboration with the Office of the President and the MVC Art Gallery.
Resources