Are you advanced in chemistry, Spanish and need help finding the correct class? Placement tests can help.
Place in Advanced Classes
Course placement allows MVC to evaluate your skills in a subject, so you register for classes that you have the best chance to succeed in. Some students can earn access to advanced classes or skip introductory courses based upon results from proctored exams.
Email Us for an Appointment Math and English Placement
What are Course Placement Tests?
Placement tests allow students to take an exam that evaluates their understanding of a subject. Test results can then be used to determine if a student is placed at the correct level in a course series. Placement tests do not satisfy credit requirements but can impact the need for a student to take prerequisites.
Chemistry Placement
Chemistry 1A has a prerequisite of Chemistry 2A. A student who desires to validate Chemistry 2A based on high school or prior college coursework may appeal to take the Chemistry Diagnostic Exam. It is the student's responsibility to submit transcripts with a final grade of "C" or better.
Chemistry Diagnostic Exams are by appointment only and must be conducted in person because of the process involved. Email assessment@mvc.edu to set up a testing time.
Students who wish to take the Chemistry Diagnostic Exam must provide documentation to a counselor or counseling staff. Acceptable forms of documentation are:
One year of completed high school chemistry with a final grade of "C" or better. (Unofficial and official transcripts are acceptable; Unofficial online transcripts must be verified by a counselor or staff.)
Completion of a 4-unit college level chemistry course with a "C" or better; inside or outside the United States.
The counselor or counseling staff member will complete the Chemistry Diagnostic Test Approval Form (half sheet). The student will give their copy of the Chemistry Diagnostic Approval Test Form to the Assessment Center to make an appointment.
This is a multiple-choice paper/pencil test with 44 questions and a 45-minute time limit. Books and notes are not allowed, but calculators are permitted. The Periodic Table of the Elements and a table of symbols and abbreviations are provided at the back of each test booklet.
Once the test is completed, the student will be contacted by the Matriculation Specialist to know the results of the Appeal process.
The California Chemistry Diagnostic tests students in the following competency areas: compounds and elements, states of matter, reactions of matter, structure of matter, periodic properties, solutions, qualitative kinetics and thermodynamics, lab skills, and mathematical skills.
To get a general idea of what to expect from the test, see the sample questions.
Spanish
The Spanish placement test measures competency levels for those who wish to enroll in Spanish courses higher than SPA-1 Introduction to Spanish but need to determine the appropriate starting level. The results show a recommendation of the appropriate Spanish class. Students can enroll in a level lower than their placement, but not higher.
To make an appointment to take your Spanish placement exam in-person, email assessment@mvc.edu.
If you have Spanish language skills that surpass those taught in SPA-1 Introduction to Spanish, you may benefit from moving further along the course sequence. Later Spanish courses focus on refinement of grammar and speaking rules, and may allow enrollment in Spanish classes for native speakers
The Spanish placement test is an adaptive computer-based test that is not timed but can take up to 1.5 hours to complete.
You only need to take a placement exam if you seek to waive the prerequisite requirement for specific classes like Chemistry or Spanish. Taking a placement test is not a guarantee that your need to take a prerequisite class will be removed.
Students who have taken college coursework at another college credit can submit their transcripts to Admissions & Records in-person, by mail or online to have their student records updated.
Students who have earned Advanced Placement (AP) credit in an approved high school class, and have earned a 3, 4 or 5 on an AP exam in a specified subject area, will be granted credit for RCCD programs. AP scores should be sent to Admissions & Records for evaluation. More information about how AP credit is accepted at RCCD can be found in the College Catalog under Graduation Requirements.
Students should review coursework and take practice tests if needed. Also be sure to get a full night's rest, eat a healthy meal and ensure you have plenty of time to arrive on campus and take the exam.
No, a test is not required. Students may meet with a counselor to evaluate whether you need placement in ESL classes, or take a guided self-placement online in MyPortal.
Ability to Benefit (ATB)
To receive financial assistance, a student must be qualified to study at the postsecondary level. This is called the Ability to Benefit. Most students satisfy this requirement after receiving a high school diploma or GED. If you do not have either of those, you may need to take an ATB test to receive financial aid benefits.
The Ability to Benefit (ATB) provision in the Higher Education Act (HEA) allows low-skilled individuals to access necessary workforce training and education that can help lift them out of poverty.
Traditionally, federal and state financial aid requires recipients to have a high school diploma, GED or equivalent. The ATB allows students without a high school diploma or equivalent to benefit from federal financial aid when they participate in an eligible career pathway or program of study.
A student who is enrolled qualifies if they have:
A high school diploma
A General Education Development (GED) certificate
Passed the California High School Proficiency Exam (that is recognized as the equivalent to a High School Diploma)
Completed an approved Home School program
Students who were enrolled in an eligible program of study prior to July 1, 2012 will still be eligible to meet the educational requirements for financial assistance by fulfilling one of the following ATB approved requirements:
Pass a federally approved ATB test. At Moreno Valley College, this test is administered by the Assessment Center. The student must bring proof of passing scores to the Student Financial Services (SFS) Office.
Satisfactory complete six units that are applicable toward a degree or certificate offered at RCCD prior to July 1, 2012. You must meet with the SFS counselor to determine if you have completed six units toward your degree or certificate. Although you cannot receive grants or loan assistance while you are earning these units, you may still be eligible for the Board of Governor's Fee Waiver (BOGW). Please refer to the BOGW section of this consumer guide for additional information.
Each student has three attempts at meeting the Ability to Benefit requirements.
The first initial attempt is usually also the student's assessment test taken as a first-time student.
If the student does not meet Ability to Benefit criteria on the first attempt, they will need to make an appointment with the Educational Advisor in Assessment to re-test.
If the second attempt is also unsuccessful, the student still has one last chance. The student must enroll in developmental classes (such as English 60A, Math 51 or Reading Skills 81) that will help them acquire the skills they need to meet the criteria. Then, after satisfactory coursework is completed, the student must see a Student Financial Services Counselor. The counselor will evaluate the situation and make the choice when to grant the student a third attempt.
For information on acceptable ATB passing score transfer process, please call the Moreno Valley College Assessment Center at (951) 571-6427.
The requirements include giving the test in a manner that is accessible to disabled students and offering alternative forms of the exam in large print, Braille, and audio cassette formats. The student must provide documentation of the disability to Disability Support Services for determination of eligibility for the accommodation and accommodations must be requested 72 hours in advance.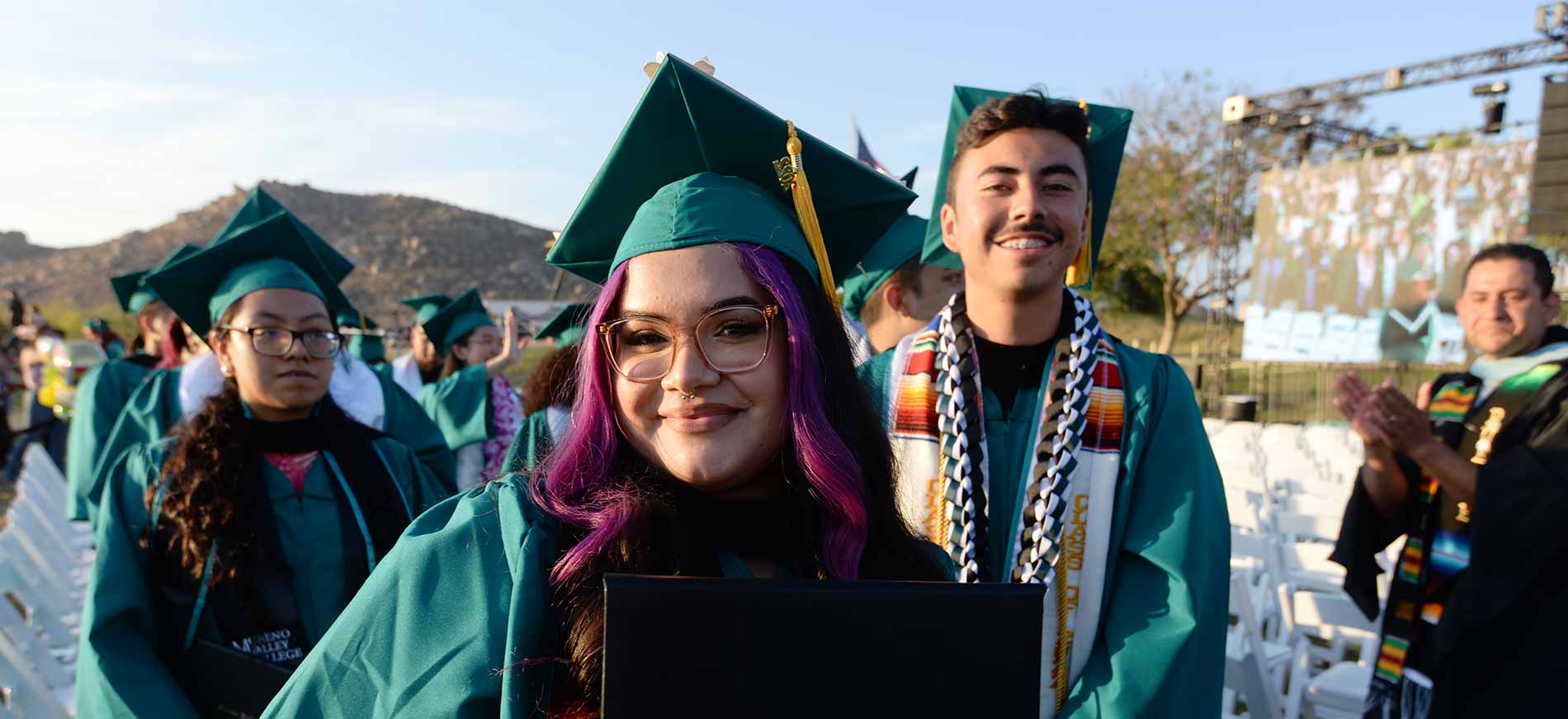 Ready to become a Mountain Lion?