Dental Assistant Program Accepting Applications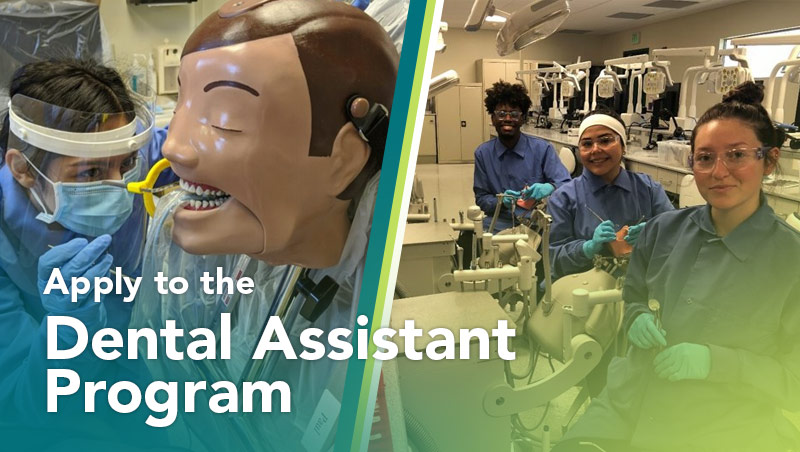 Challenge Yourself
Are you looking for a challenging and rewarding career in the healthcare industry? Do you want to work in a dynamic environment where you can help patients and learn new skills? Then, the Dental Assistant Program at the Moreno Valley College is the perfect fit for you!
About the Dental Assistant Program How to Apply
About the Program
Our Dental Assistant Program equips students with the skills that are essential to succeed in this fast growing profession. As a dental assistant, you will be an integral part of the dental team and work alongside dentists, hygienists, and other healthcare professionals. You will help patients feel comfortable in the dental chair, take x-rays, sterilize instruments, and perform other duties that are essential for providing top-quality dental care. This is a rewarding profession that offers excellent prospects for growth and advancement.
Dental Assistant Program of Study
Growing Demand
Dental assistants are in high demand across the country, and this trend is expected to continue in the coming years. According to the Bureau of Labor Statistics, employment of dental assistants is projected to grow seven percent from 2019 to 2029, much faster than the average for all occupations. This field also offers competitive salaries and benefits and provides an excellent opportunity to make a positive impact on people's lives.
Enroll Today
So, what are you waiting for? Enroll in our Dental Assistant Program today and start your journey towards a bright future in the healthcare industry. You can find more information about the program, including admission requirements and tuition fees, on our web page. We are currently accepting applications for Fall 2023. You can apply or download the application.
Contact Us
If you have any questions about the program, please do not hesitate to reach out to us at (951) 571-6433 or through our contact form.
We look forward to hearing from you soon.