Peer Online Course Review
About MVC's Peer Online Course Review Process
Peer Online Course Review (POCR) allows faculty teaching online to have their course reviewed by their peers. This local review process helps improve course content, design and accessibility, as well as serves to better align content with the
CVC-OEI rubric
. At MVC, this process is overseen by the Distance Education Committee.
Goals and Benefits
Serve as an exciting and engaging professional development experience for new and experienced online faculty.
Lead to more engaging and satisfactory online experiences for both instructors and students.
Create a community of practice in which instructors share their challenges, develop new approaches, and support one another.
Result in more aligned "Quality Reviewed" courses from Moreno Valley College in the CVC Exchange.
Improve the quality of all courses taught by faculty participants. Past participants have shared that the course design principles learned in POCR positively impact other online and web-enhanced courses they teach.
After Completion
Upon completion of the POCR Process, faculty will:
Earn the POCR Aligned badge, which will serve as a way to represent the commitment to teaching and learning in the online environment. Hooray!
Earn the Quality Badge on their course in the course exchange at cvc.edu.
Earn RCCD certification for online teaching
Review and Approval Process
This process has been adapted from City College of San Francisco and recommended by the MVC Distance Education Committee. You must be enrolled in the DE Den to access some of the resources on this page.
Get informed


Attend an informational session to learn about the POCR process, watch a recorded session in the DE Den, or meet with a POCR mentor.

Choose a Course: Guiding Questions


Have you taught the course online in Canvas for at least one term?


Is the course completely online? Is it permanently approved as an online course?
Is the course part of an ADT, Gen Ed Transfer, or CTE program?
Are you planning to teach the course at least once a year for the next 2 years?
If the course uses publisher content, does this content meet accessibility guidelines?

Training


Be sure you are ready for the POCR process by completing an Online Course Design training like an Introduction to teaching Online or RCCD Course Design Camp. Options are listed on the Online Faculty Training for DE page.
Training Guiding Questions:


Are you trained to teach online?
Do you have a strong understanding of the OEI Course Design Rubric?
Complete Self-Assessment

Submit POCR Application


The application asks you about your online course and your online teaching experience. We want to make sure your course is a good fit for POCR.

Application Approved

After your application is reviewed and approved, you will sign a POCR agreement and receive a Sandbox/Master Shell to import your course for review.
If your application is not accepted you will be paired with a POCR mentor.
Work in Your Master Shell


Based on the results of your self-assessment, work on your course using resources provided on POCR Resources for aligning your course.
You're not alone in this work! Your mentor can help direct you to additional resources and be a sounding board.
Course is Reviewed


Two (2) POCR reviewers will review your course using a Course Design Tracking Plan. Your mentor will go over the results with you and make sure you have any resources needed.
Make Revisions

This step takes a lot of time! Continue to communicate with your mentor as you make all needed revisions to bring your course into alignment. Record your work in the Tracking Plan.
After you have aligned your course, complete the self-check for accessibility and make any needed changes.
Final Review

When you and your mentor agree that your course is ready, submit your course for final review. Reviewers 1&2 will sign off when all areas in the Rubric are aligned.

Accessibility Review


A district Accessible Technology & Media Coordinator will complete the final accessibility check
Revise course based on accessibility review

Achieve POCR alignment


Congratulations! You have made significant strides in creating a much more equitable, rich, and valuable learning space for your students.
POCR Team
The POCR Team comprises faculty and classified staff and is led by the Distance Education Committee Chair, Distance Education Committee, and Sidekicks. Faculty will receive support from three members of the POCR Team in the POCR Process. Faculty will be paired with a mentor and two anonymous reviewers.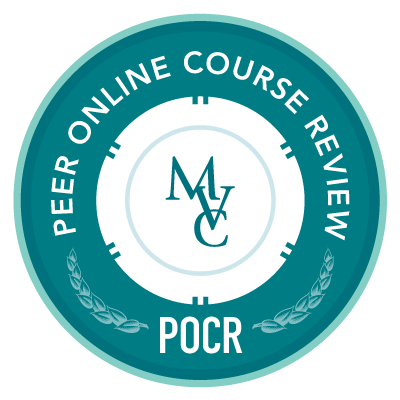 POCR Certified Faculty
Monica Eastridge
Jose Oceguera
Kyla Rankin