Financial Aid Awareness Week at MVC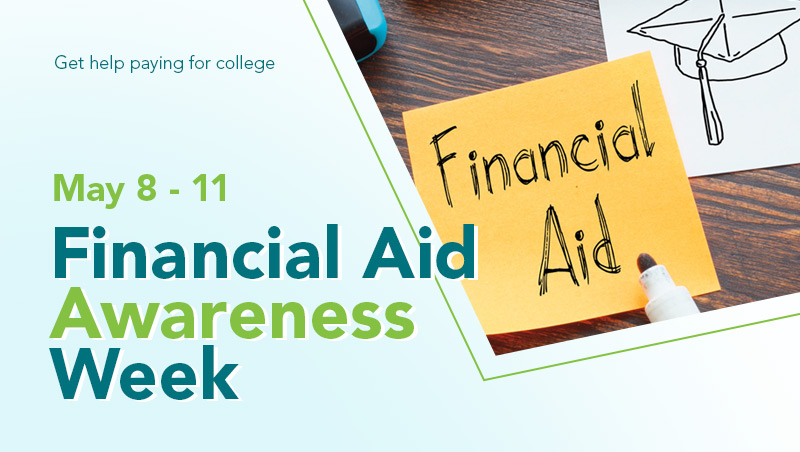 Learn how to pay for college
Join the various activities offered during the Financial Aid Awareness Week by Student Financial Services, and learn how to apply for financial aid, its resources to help pay for college, and how to maintain its eligibility.
Students are encouraged to complete the Free Application for Federal Student Aid (FAFSA) or the California Dream Act Application (CADAA) every year. Both applications are available starting October 1 and have a priority deadline of March 2. However, if you have not completed your 2023-2024 financial aid application, you can still apply! Join one of our workshops for help completing your FAFSA or CA Dream Act or attend a presentation to learn more about how financial aid works.
Daily Workshops
Monday, May 8, 12:50 - 1:50 pm in WC 172
Tuesday, May 9, 1 - 2 pm in HM 309
Wednesday, May 10, 12:50 - 1:50 pm in WC 172
Thursday, May 11, Noon - 2 pm in WC 172
Wrap-up Celebration
Join Student Financial Services on Thursday, May 11 from 12-2 pm at the Coudures Plaza to celebrate with music, food and prizes!
Students who completed their 23-24 FAFSA or CA Dream Act OR attended a workshop will receive a free lunch on Thursday, May 11.
Opportunity Drawing
There are two ways to enter the Financial Aid Awareness Opportunity Drawing:
Drop by the SFS office (Welcome Center) or a table (Coudures Plaza) to check your financial aid status.
Sign up for Jobspeaker and follow MVC on social media!
Contact Us
Have questions? Call (951) 571-6139 or email studentfinancialservices@mvc.edu.