Students Leaders Travel to Sacramento, Washington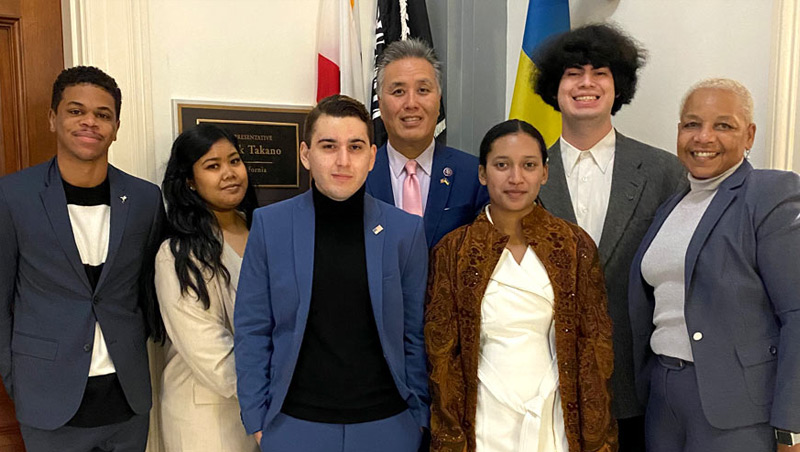 This month students from the Associated Students of Moreno Valley College, along with Frankie Moore, faculty advisor and professor, attended the FACCC Advocacy & Policy Conference in Sacramento and then the American Student Association of Community in Washington DC.

The student leaders received congratulations for their attendance and participation. The Mission of FACCC is to inform, educate, empower, and advocate for faculty in service to students and the communities of California.

This year's theme was Creating Equity Through Policy & Action and consisted of a number of workshops: Valuing Student Voices; Working together towards Advocacy; Academic Freedom and Embracing the College Classroom: Valuing Culturally Responsive Practices and Decolonization the Curriculum; System partners Conversation: Increasing Practitioner Influence in the Legislative Process and the conference ended with a Local and Statewide Faculty Perspective on the 2022-23 Budget Cycle.

"It made me realize that not only is RCCD struggling with a lack of teamwork, communication, and involvement, but so are a majority of California's community colleges," Cristian Barrera, Student Body vice president, said.

In Washington, DC, MVC students comprised of approximately 200 community college students from 25 different community colleges from seven states who networked with colleagues from across the nation. Over the course of four days, 155 hours of community services took place I conjuncture with the National Park Service. Students also were also estimated to have accumulated 600 visits to "the hill."

ASMVC met with Congressman Mark Takano, a former Riverside Community College District Board of Trustee member, in his office. Students addressed critical issues germane to the College; transportation infrastructure; services for Veteran; and Pell Grant.

El Camino College, Napa Valley College and MVC students also met with a staffer from Senator Alex Padilla Office via Zoom. Students asked for support for the tuition free initiative for community college attendees, ways students can support AB 963-Student Civic and Voter Empowerment Act and shared the proposed affordable on-campus housing initiative.

Other highlights included hearing from speakers from Green Peace and ForCollegeForLife. Chris Cray from Green Peace spoke to the students about ways they can enhance Green Peace's grassroots organizing push. Jasmine Williams spoke to student leaders about their campus roles and fulfilling their responsibilities of the positions they hold, respectively. Archie Messersmith-Bunting concluded the conference by addressing mental health issues, a very timely topic after the pandemic.