Steinback Hires a Vice President of Planning & Development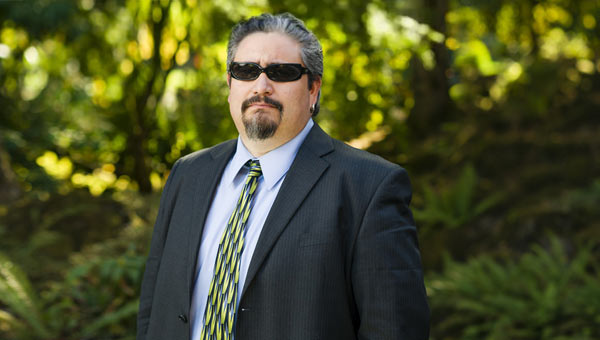 Mark Figueroa, Ph.D., has been hired as the vice president of Planning & Development, a new managerial position for Moreno Valley College. The vice president of Planning & Development will lead the College's strategic planning efforts and institutional effectiveness and additional responsibility centered around student success and support, workforce development, marketing, grants, and college advancement efforts.
"My primary emphasis will be determining how we can meet the mission of the institution as we move forward," Figueroa said. "Obviously, the institution has developed a strategic plan, built off community input, so part of my job will be helping to hold the institution accountable while developing metrics to ensure goals are being met.
"The challenge bringing enrollment back to pre-pandemic numbers. And, to do that we need to develop a new narrative that includes rethinking education delivery methods. Part of the process is going to entail looking at what was learned from COVID."
Figueroa, who has spent the last 10 years at Lewis & Clark College, a private institution in Portland, OR, is familiar with the Inland Empire. He earned his bachelor's degree in Philosophy-Law and Society with a minor in Chicano Studies from UC Riverside.
He went on to earn a master's degree from Arizona State University in Public Administration, with a concentration in Management. He then attended Claremont Graduate University, earning his Ph.D. in Education, specializing in Higher Education and Administration.
A published author, Figueroa has also presented on topics ranging from data utilization to student success.
"A lot of the mythology of higher education is that we can't change on a dime, but I don't think that is true," he said. "We basically flipped our industry with a three-week notice. So, I think the challenge is to learn how to leverage the technology we were forced to use during COVID as a supplement or compliment, not a full replacement, in order to reach a broader audience and allow students to learn at their pace while balancing life responsibilities."
"This is really going to be about working across the College to breakdown some of the silos that exist in our structure of higher education. I think we need to help individuals understand how they manage their short-term needs while keeping an eye on their long-term goals. We need to move away from 'I don't think we can do that' to 'how can we do that.'"
Figueroa is also a sought-after consultant, working previously with San Mateo Community College District, Pasadena City College, Walla Walla Community College, and other institutions on equity, opportunity and access. He began his career as a research assistant at Arizona State University but progressed into the fields of institutional research, equity and inclusion, and assessment. In 2011, he left Scripps College to become the director of Institutional Research at Lewis & Clark College. He was promoted to associate provost and then to associate vice president of research and planning. In 2019 he was also named dean of Equity & Inclusion. Figueroa managed the operations of two divisions and also served as the Title IX coordinator until last year.
"Dr. Figueroa has an extensive background in new planning and strategies to move the College forward in innovative ways," Robin Steinback, Ph.D., president, said. "It is important that we have leadership who can make critical decisions and provide a short- and long-term implementation plans. Effective planning requires regular assessment to ensure that the College continues to fulfill its mission and achieve its goals. This takes dedication to the planning process and a commitment by all segments of the College community."
Figueroa begins his appointment on December 6.