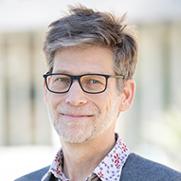 Jeff Rhyne, Ph.D.
He/him/his
Chair/Professor, English
About
Jeff Rhyne has been teaching since 1992 when he started his career as a high school English teacher. He also taught English as a Foreign Language in Lithuania and at Cal State Northridge. Since he started his career in post-secondary education, he has taught college composition and a range of American and African American literature courses at UCR, Pomona College, University of Redlands, and Indiana University at South Bend before starting at MVC in 2006.
Rhyne is a bit of an exercise addict: having grown up swimming competitively, he still swims several days a week and now also does Pilates to correct years of bad posture. If his body can handle it, he'd like to get back to running, but he's considering trying out cycling. He also loves to read, hike, travel, spend time with family, and play brain teaser puzzles like Wordle, Spelling Bee, Sudoku, and KenKen.
Educational Background
B.A., Pomona College.
M.A., Ph.D., University of California, Riverside.
At Riverside Community College District since 2006.